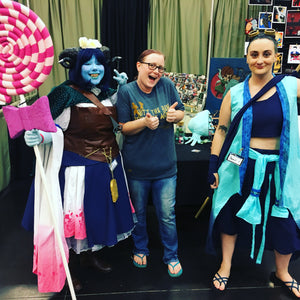 Shop Updates!
Hi Everyone!!! 
I'm really excited I finally got the Shop up and running! Thanks to everyone for your support and patience while I work to get orders out!
I recently returned from VisionCon in Springfield, Mo this past weekend and it was a BLAST! So many old and new faces! I enjoyed D&D stories from people who stopped by my booth and debuted the dice at my first con- which were received well! I look forward to next year!
I started a Patreon page last week! There are several different levels ranging from $1 to $75. The $75 is limited currently as is offers a custom set of dice with designing done over Skype/FaceTime/ or another such program. $5 up to $75 levels also allow a variety of chances to win free dice/jewelry or both! I'll draw winners at the end of the month, so check it out and consider becoming part of my Niffler family at the link below!
patreon.com/ naevisoddities
Last but not least... check out the coupon code currently automatically being added to orders $31+ in order to celebrate my birthday!
Much love and more lovelies to come!
-Jaimie R.
Do-it-all @ Naevi's Oddities
---